Ahead of the final round of games at the group stage, Welsh fans already sense trouble. Wales is set to meet with Russia in the final group game B encounter which will be a cracker, based on the current group standings. Russia have already received suspended disqualification from Euro 2016 after violence at the game against England.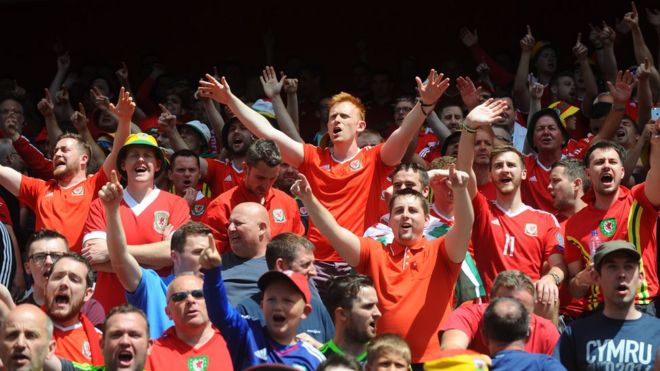 The Monday game is believed could brew trouble, especially when fans' expectations are not met. The games in France have seen a lot of violence, and with the games on Monday, the Haute-Garonne prefecture has raised the security risk-level to three on the one to four scale. Welsh football fans in Toulouse have said they are "apprehensive" about the meeting with the Russians. The security team which comprise of British and French police said they had taken "sensible and positive measures" ahead of games.
The Football Supporters' Federation (FSF) Cymru tried killing off any worry when he said: "There doesn't appear to be any tension."
The BBC interviewed a few people and they said though the situation was fine but concerns remained. Mark Griffiths, 56, said the atmosphere in Toulouse was "friendly" but "there is concern" while Matthew Davies, 29, of Cardiff mentioned that he met a couple of Welsh fans and he could sense the worry ahead of the games. He said Welsh fans told him to run in the opposite direction immediately he sighted Russian fans wearing black clothes.
The National Police Chiefs' Council through the Assistant Chief Constable Mark Roberts mentioned that they were aware of the situation and they have put plans in place ahead of the forthcoming games. Tens of thousands of Russian and Welsh fans are expected in Toulouse for the game which could have dire consequences for either side going forward. Wales go into the game with three points knowing they can still top Group B or fail to qualify for the next round.